---
The Insider's Guide to Lake Chelan Cider Houses









Only $350 for inclusion in the guide.
Looking for a crisp new taste? Try some Lake Chelan Ciders
Richard Uhlhorn for Lake Chelan Magazine
Wine is not the only alcoholic liquid filling glasses in the Lake Chelan Valley these days. Cider is making a comeback in the United States and what is a more appropriate drink than cider made in the Lake Chelan Valley, home to the world's best apples.
A little history: When the Romans invaded England in 55 BC, they were surprised to see local villagers drinking hard cider made from apples. The apple trees had been brought in from the forests around Kazakhstan and were well established in Europe.
America's love for hard cider came with the first English settlers. When they found only crab apples, they requested apple seeds from England to begin cultivating orchards. It wasn't long after English apple starts were grafted onto crab apple trees that American cider production began.
Today, according to Nielson rankings, cider growth is being led by regional and local cider production and is up 29 percent over last year with total sales of hard cider hitting 494 million dollars. Cider is currently running at a more than 32 percent growth rate.Locally, cider is becoming a significant economic force. Let's begin by checking out some of our local producers.
Locally, cider is becoming a significant economic force. Let's begin by checking outsome of our local producers.
Washington Gold
Jon Kludt, owner and cider maker at Washington Gold, began fermenting apple juice about ten years ago. "We were using Golden Delicious apples from the family farm and then serving it in the tasting room," he said.
Little did the Kludts know that their Washington Gold Cider was about to become an
enormous hit. First, QFC at Northgate called and wanted one grocery store pallet. When that sold out, QFC called to order another pallet, and another after that! The store continued purchasing cider until Jon's inventory completely ran out. "That's when we ramped up our production," said Jon.
Today, the Kludt's operation has a dedicated cider house with two production houses that produce five products: three apple varieties, a cherry cider, and a raspberry cider.
"What sets us apart is that our ciders are all fresh pressed. "We are looking at getting our own canning line," stated Jon.
Rootwood Cider Company
Rootwood Cider Company is another local cider house with a long history of apple production in the Lake Chelan Valley. After the 2011 Longshoreman's strike in Seattle hit exporters hard , Jim and Cheryl Koenig had a tough decision to make.
"It was evident to us that we had to be more in control of our destiny," said Jim. "We needed to make a change for the good."
"As a family, we asked if we wanted to continue farming," explained their daughter Anna Koening-Caddey. The Koenigs decided they didn't want to leave the family business behind, so they grafted a bunch of their existing apple trees with cider-specific apples.
Today, Rootwood has a beautiful tap room in downtown Manson with ten different
varieties. "They range from sweet to bittersweet," said Cheryl.
"We try to have a balance so you can taste the fruit," added Anna.
As I interviewed the Koenigs, they prepared a tasting flight for me to sample the variety of ciders being offered. Wow!
I was impressed with the clean, refreshing taste of their ciders. I particularly enjoyed their Lake Effect which they describe as bright and balanced with a deep Crabapple flavor.
Rootwood's Perry is a new release made from pears from Dryden in the Cashmere Valley was also excellent.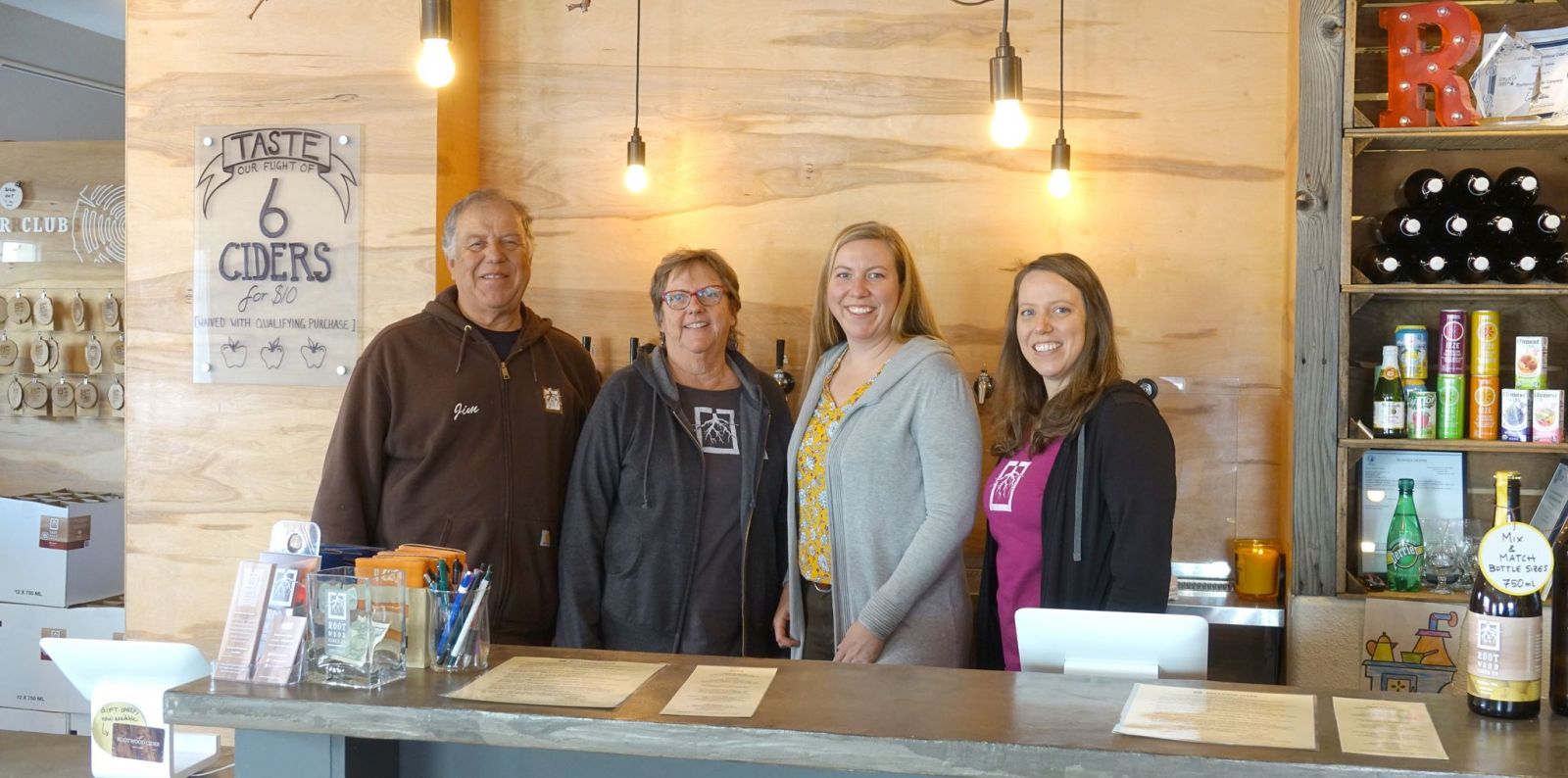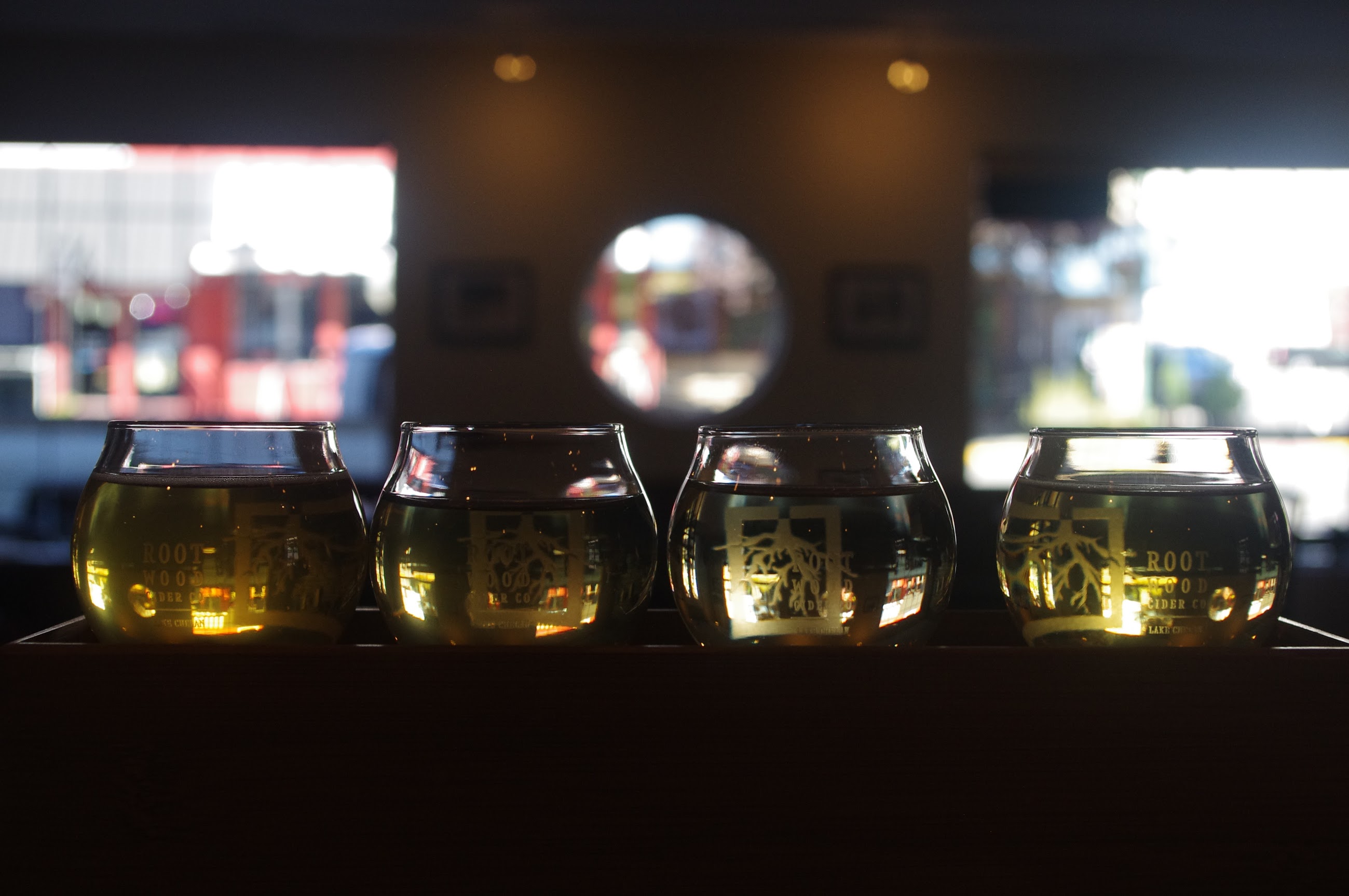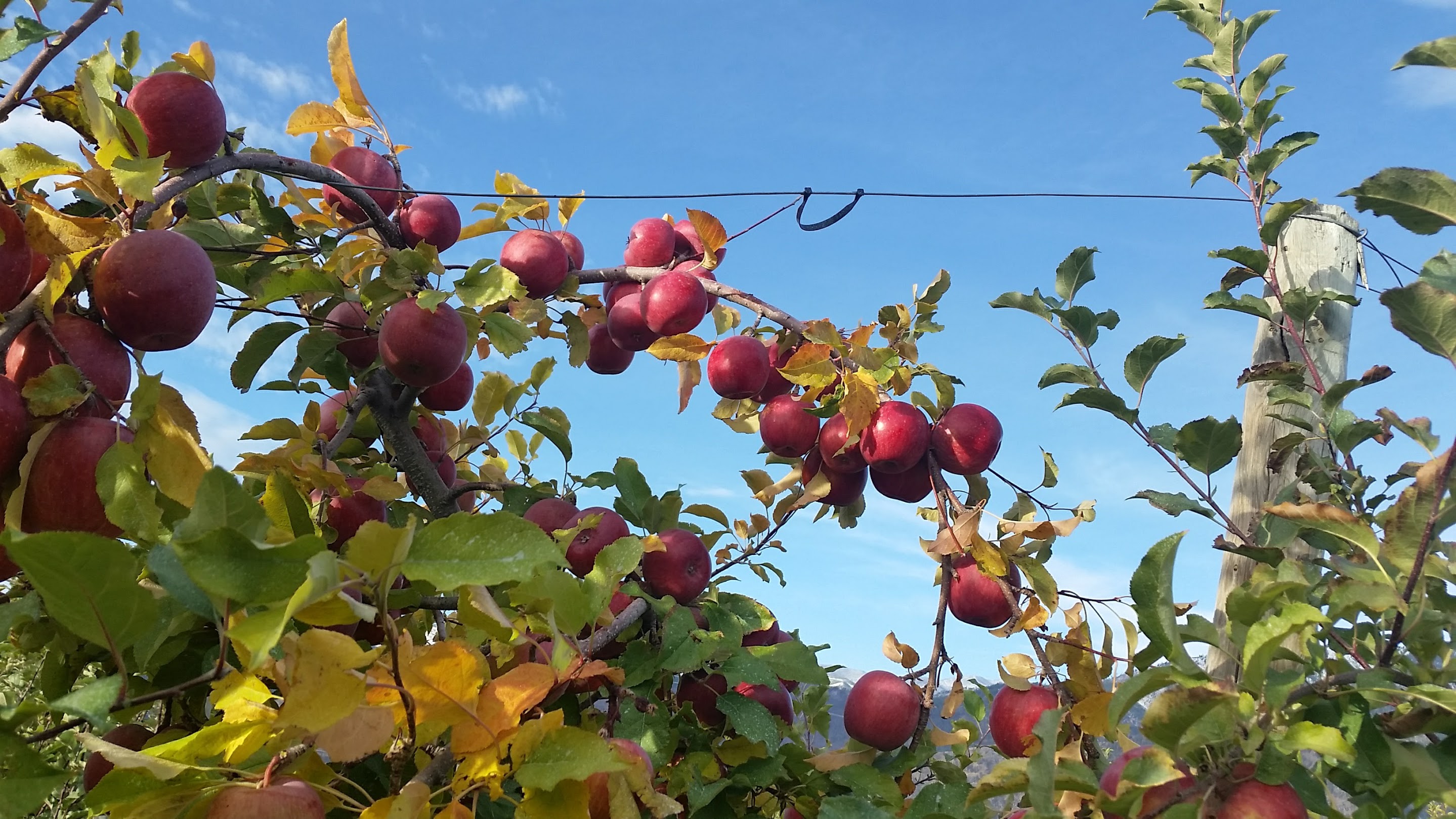 Rootwood also has small bites to go along with its ciders. From Chips & Salsa to small plates featuring meats, olives, dried fruits, almonds and cheese, these dishes are sure to please.
Enjoy their Signature plate which consists of Glondo's Sausage from Cle Elum, Italian dry salami & landjaeger bites, aged white cheddar & creamy brie served with La Pananella crackers & 34⁰ Savory Crisps with dried apricots for only $15. Soft drinks are available for the kids or nonalcohol drinkers. Ask for gluten-free crackers.
"We have gotten a lot of help and advice from other people," said Jim. Kate Koenig-Howard added, "We took a couple of two week long classes, one in Walla Walla and one in Mt. Vernon from Peter Mitchell, a renown cider maker from the United Kingdom."
Rootwood Cider Company has a production house in the Manson Project by the town's high schooll. It includes another tap room and enough space to cater receptions, parties, and events. The facility is also open for tours. "We do a lot of educating," said Kate.
The company is currently serving from eight taps at their Manson tap room. They have plans of going to 10 taps this spring. "We have room for 12 taps," said Kate.
They also sell growlers, which are a favorite with locals. "We have a Cider Club and Coaster Club. The Coster Club is kind of like a Mug Club. People are very protective of their coaster positions," explained Kate.
WinterFest's Ale Fest in January provided amazing exposure for Rootwood. "People would ask where our taproom was and I'd tell them it was just down the street," said Kate.
"Local wineries and cider house go together," said Jim. "We are not competing with wineries… not at all. A lot of our customers come in after wine tasting to try our ciders."
Steelhead Ciders
In downtown Chelan, behind the bookstore on Woodin Avenue, Ben Barnes, owner, and cider maker of Steelhead Ciders, holds forth with five taps for the discerning cider drinker. Ben's family members are longtime orchardists in the Lake Chelan Valley. When he took over the family orchard in 2014, he grafted cider specific apples. "They are beginning to produce product," said Ben.
Like many of the cider houses in the Lake Chelan Valley, Ben also sources some fruit from Chelan Fruit, one of the world's largest apple cooperatives. He uses Braeburns, Fujis and Golden Delicious as a blend. "I ferment to dryness and then add back some sweet taste with fresh juices," said Ben.
Steelhead's best seller is Peargatory. It is an award-winning apple cider, the best of Sip NW Magazine's ciders.
Ben tweaks and blends his juices for eight to nine months, so the tannins soften up and mellow out. His Peargatory is an incredibly smooth cider. Hopped Habanero, inspired by the local Hispanic culture is made with Northwest hops, Honeycrisp Apples and a firey, yet not too intense, peppery spice that comes only in the keg.
"I produce 10,000 gallons a year, but I'd like to triple that and find a distribution company to distribute my ciders."
Steelhead is open Thursday through Monday from 1 to 7PM, except on Saturday when Ben has music and stays open until midnight.
Steelhead Cider is open Thursday through Monday from 1 p.m. to 7 p.m. except on Saturday when he has music and stays open until Midnight.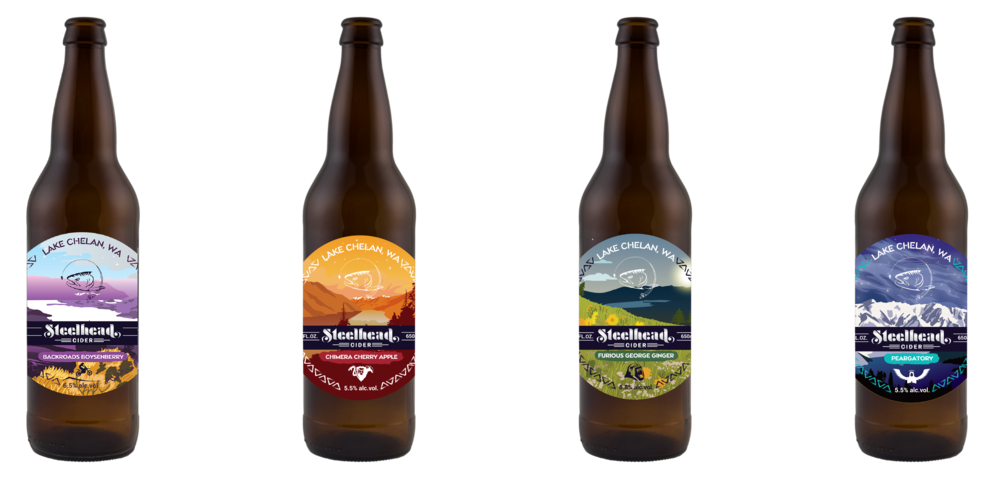 Chelan Craft Ciders
Add some lemon flavoring to a cider and you end up with a wonderfully fresh hard cider that will pair well with salads, seafood and hors d'oeuvres. Chelan Craft Cider located at 806 W. Manson Hwy. across from Lakeside RV Park at Don Morse has created several flavored ciders to please the taste buds including a Ginger Pear, Lemon Cider and Cider with Cherry and Vanilla.

Cynthia Flynn and her husband Eric are the proprietors of Chelan Craft Cider and came back to Chelan when her remote work job with Boeing ended. "They said I would have to come to Everett to work in an office and I decided not to do that."

That led to the inevitable question of "What do we do." Cynthia said, "It was Eric's idea to do some kind of business." They came up with the idea of producing cider. "We didn't know anything about it, so we started fooling around." They ended up taking a two week course in Bellingham . "We kinda learned from there," said Cynthia.

There first batch was only 130 gallons. They were helped by Robert Anderson, owner of Lupine Vineyards in Union Valley. "He held my hand throughout the whole process." She decided that if that first batch turned out, they would enter the Cider making business.

"I'm happy," stated Cynthia. "We made enough to make it through the winter and it is paying the bills."

Chelan Craft Cider sources its juice apples from Chelan Fruit. "We try to do things that are not too sweet." Macintosh and Pink Lady's are their "go to" varities.
Washington Gold presses their apples into juice  and then Cynthia takes it through its primary fermentation at her facility in Chelan. "I rack it as soon as I can and then filter it. My goal is to be down the middle… not too sweet and not too dry."

July 4 will be Chelan Craft Cider's first anniversary. "I enjoy making the cider and doing flavors. It's fun," said Cynthia.
Hard Row to Hoe Winery & Cider
If there was anyone in this valley with more notoriety for winemaking, it is Hard Row to Hoe Winery. Enter Judy Phelp's excursion into making hard cider. "This is an absolute sideline for us," said Judy. "We have friends in Canada that make ice cider, and we fell in love with it."
In 2015 the Phelps (Don and Judy) had apple juice and Judy didn't know what to do with it, so she put it into a wine fermentation tank and fermented it. "It blew me away," said Judy. "I got excited about cider and took a cider making class from Peter Mitchell, the Godfather of Cider making."
Don and Judy can their The Other Cider of the Lake and source their apples from Chelan Fruit, usually Braeburn. "Whenever we are ready to make cider, we call them and ask what they have available."
Judy has made cider from Galas and other varieties also. "You don't have to make cider from just cider specific apples," Judy said. She makes Hard Row's cider when they have free wine vats. "Once it sells out, we make more when we can."
She is cautious not to over-carbonate. Hard Row's cider has a 4.6 percent alcohol content, and they use a mobile canning service that labels and cans 200 cases per run.
"We make two to three runs." They also have keg cider and growlers that are sold in downtown Manson at Lake Chelan Brewery. A four pack runs $15.99.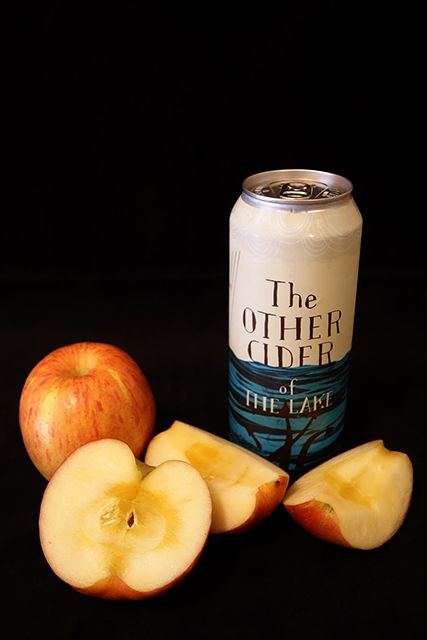 Manchester Road Cider
Manchester Road Cider Company is owned and operated by Andrew Fielding and his wife, Erin. "Is there a better place to produce cider than in apple country," quipped Andrew. He doesn't think so.

When the Fielding's moved to the United States from England, Andrew was disappointed that hard cider was not readily available, so he, and Erin began making their own cider for personal use from locally grown Washington Apples. "There isn't anything better than an ice cold cider with a pizza on a hot afternoon," said Erin. "That's our go to meal."

Andrew produces his ciders from dessert and culinary apples from local apple cooperatives. His ciders have a touch of apple left in them so they are not fully dry, but are full of apple aromas and full body flavors.

Stormy Mountain Brewery
Stormy Mountain Brewery will gladly give you a small tasting of the Red. It is light and refreshing and easy on the palette. Stormy Mountain Brewery also sells hard cider from Steelhead Cider in bottles and is a great place to try cider along with some great food, including tacos, and - sometimes - barbeque ribs.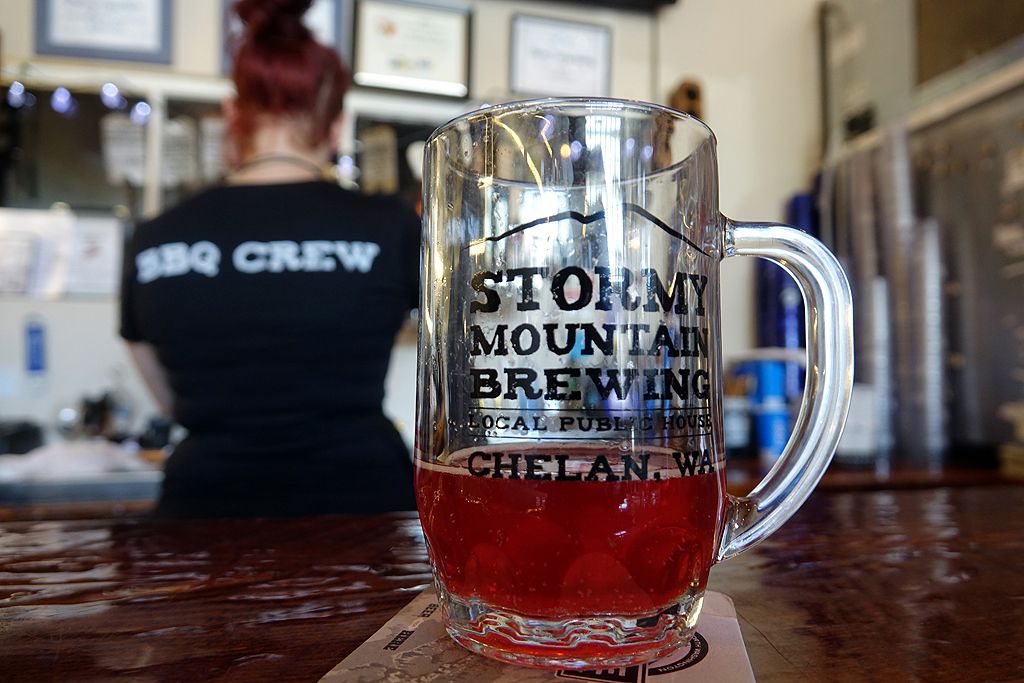 Karma Vineyard
Karma Vineyards has been a forerunner in producing a variety of wines, champagnes, and other distilled products. One of these products is the Bad Granny Cider series of hard ciders. "She's So Bad, It's Good" goes the Bad Granny slogan.
Karma Vineyards uses only 100 percent Washington Apples. With a philosophy to use locally sourced apples, attention to detail and knowledge of the traditional French Champagne methods, Bad Granny has created a series of unique hard ciders.
They are producing a Honey Crisp semi-dry, a Black Currant, a Nice Pear, a Rainier Cherry and an Heirloom Cider that takes the drinker back to the kind of cider that has passed down through generations of cider making. They also have a limited cider called In The Flesh.
Bad Granny Ciders are available in cans and bottles.
"The next time you are interested in a fresh, crisp drink, ask for a local hard cider." - Rich Uhlhorn
Social share