Asia & Niko


HIGHER
On top of the world in the North Cascade Mouintains, a film artist and composer hike 500 miles of the Pacific Crest Trail while creating a short film and seeking closure to recent painful events. We talked to Asia & Niko during their stop over at Stehekin before they concluded their adventure on the top of McGregor Mountain.
Malcolm Keithely and Billy Sullivan had a chance to talk to Asia and Niko during their short stay at Stehekin,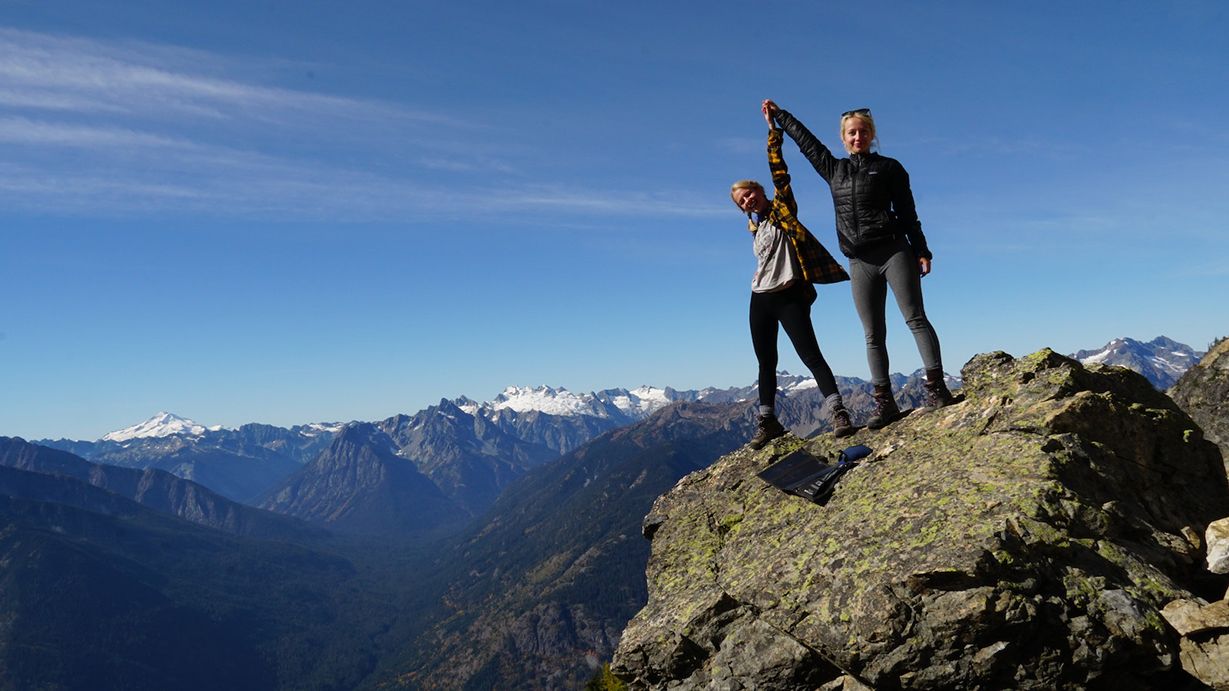 Asia & Niko celebrate the end of their 500-mile trek along the Pacific Crest Trail on the top of McGregor Mountain where they filmed a climactic scene for their film.
Yellow arches of a larch tree frame the North Cascade Mountains in this photo by Niko, who filmed with a Sony Alpha 6500.



"It's a mirrorless camera," Asia said. But it was chosen mostly because of it's lightweight. "It had to be usable and ultralight. So we picked up a camera because of the weight and because it shoots excellent 4K videos. So we're very pleased with the results."
"It was challenging because we were carrying a lot of equipment - about 60 pounds for each backpack. So it was - that was the big challenge - and we were going slow because of that - about 10 miles a day. But, we also took our time, and we did a lot of shooting, and we were enjoying being out there. So, we weren't in a rush or hurry to finish," Asia said.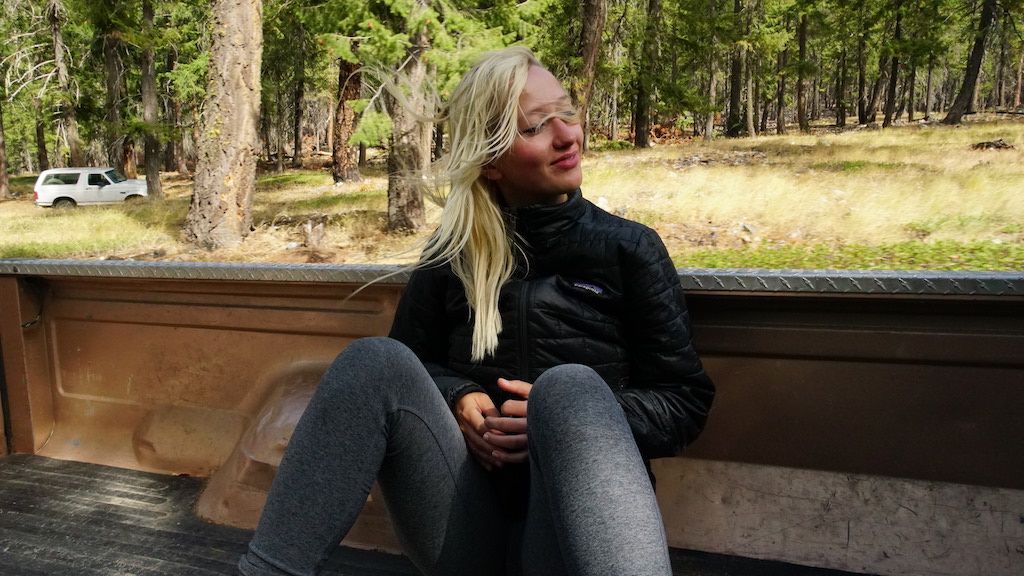 Niko hitching a ride on the Stehekin Valley Road.
Asia, Sandy, and Niko stand on the porch of a former USFS Crew Cabin in Stehekin. The cabin now serves as employee housing for the North Cascades Lodge at Stehekin. Sandy has worked at the boat landing restaurant for several seasons and was giving Asia and Niko a tour of the little village at the head of fifty-five mile long Lake Chelan. Niko and Asia had a rest day at Stehekin. Both were feeling under the weather but persisted, and did the hard climb to McGregor Mountain.
We have so much to learn, and we're aware of that, but I think both of us being European. Asia is from Poland. I'm from the Czech Republic. We are fighters, and we are trying to make things happen for us. The plan is definitely to work on as many projects as possible. We want to focus on shooting outdoors - outdoors is close to our hearts. That's where we want to be." - Niko
""We started shooting a fiction movie on a trail, and we were not sure exactly how the movie was going to evolve. We did not have time to write a script or plan anything, but we were doing it as we were hiking, which was a big challenge We changed our minds many times about how the story was going to end. I think we know now. We shot the last scene while hiking in the North Cascades, and going to Mount McGregor. That was our last hike, and we still have a few scenes that we want to shoot. We were unable to do that for many reasons, and we will probably do that in the spring in the Sierras in California and then go to post-production, and that's it." - Niko
"It is a fiction piece, but the characters are based on real people, and we put a lot of personal influences into it. And, as we were hiking the trail, we were writing it on the go, and it was evolving into something completely different than we started with originally. So, it was quite an interesting experience for us to like and put a movie together. When you hike, and you see something, and it inspires you, and it triggers different ideas ... and that's what we did. It's hard to contain these ideas into a cohesive movie. That was the biggest struggle because there were so many possibilities for us. It was challenging to put what we had in mind to actual action because there was just one camera operator - most of the time it was me." - Asia
Niko is the main character
"We had freedom with it. You know, we literally could have done whatever we wanted with it. We were our own bosses, and we still are. So it was almost scary because we were the only people who are giving direction to this. We have so much creative space. It was almost frightening, but very liberating at the same time." - Asia
"We had tons of fun, and we laughed a lot. Some of it is staged a bit because it is a fiction, but a lot of it is just like real situations that were happening there; like brushing teeth in the frigid morning, and just scenes like watching the sunrise at 11,000 feet." - Asia
"So I decided to, put my solo career on hold to focus on scoring and composing more film music. Living in Los Angeles -there's a lot of people who are trying to go that route, and there's a limited amount of opportunities. So instead of waiting, we decide to make it happen ourselves. We plan to keep getting better and to focus on studying orchestration and my instruments. I am blessed that people have started to reach out to me to score their projects, which is great. I enjoy that very much." - Niko
"You have two individuals in sync with each other. t's pretty much everything for me. I feel more motivated than I've ever been. I feel like we believe in each other's skills. Before, we were missing that drive and confidence in knowing we were talented. Now, it seems like we can do this" - Asia
VIEW PROMOTIONAL STORY BY ASIA & NIKO
---
"The Purpose of the hike was to get closure on some personal issues that we were dealing with, and also we got an opportunity to shoot a campaign for Evelyn & Bobby."
Grounded Production
Asia and Niko work under their joint production company called Grounded Production, based in Los Angeles, California.


The final scenes of Higher will be filmed in the Sierra Mountains in anticipation of a Fall, 2019 release.